Dog Accessories Take on a New Meaning
What may be classed as perfect designer dog accessories for the pampered pooch or doggy fashionista can only be an expression of the owners obsessive love for their dog, why else would anyone dress their dog in clothes which have been redesigned from Parisian fashion houses?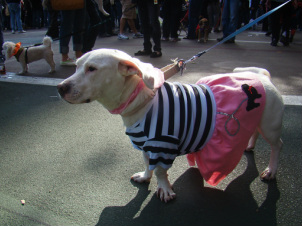 A sensible warm or weather proof jacket the type worn by Greyhounds is perfectly acceptable and in many cases a really good idea and beneficial to the dogs well being, no need to add sequins and frills, your dog will not appreciate it!
Dogs are happy to go about their daily lives with exactly what they were born wearing, and happy to wear the same natural coat everyday. Dogs are not fashion conscious and should be left with some dignity .
Any accessory purchased for your pet should be practical, beneficial and economical. An adequate practical collar, waterproof coat for winter walks, dog lead. walking leash, grooming brush, nail clippers, waterproof bed, plastic dog house are among the accessories that will be beneficial to your dog. Please no Hoodies with sunglasses the world doesn't need them and neither does your dog.
The Money spent on designer dog accessories would be better used as a donation to less fortunate dogs that do not eat a square meal everyday. I feel strongly about this subject as there are so many abandoned dogs that need the money more.
---
The only Time a Dog Should Wear a Dress
I can think of only one good reason Why a dog should ever wear a Dress and that is.....
For a good cause!
Every town and city has a dog problem, and the only people doing anything positive are voluntary groups and they need the money!
As responsible dog owners we all see the excellent work that these groups do, just imagine the problem without their care.
If you wish to put your dog in a dress DO IT! for a good cause.
Get together with a group of friends and organize a sponsored Fashion Show on the Cat Walk. Adapt children's clothes purchased from a charity shop or outgrown clothes from your wardrobes, let your imagination run wild.
There are numerous opportunities to dress up your dog, Halloween, Christmas, Easter in fact who needs an excuse when it's for a good cause, A sponsored Dogathon where a group of people walk their dogs on a given route and make a collection on the way.
Approach and gain sponsorship from local businesses, giving free mention in all advertising, inform the local press who will no doubt put a feature in the paper.
Doing this will make you feel so much better about your dog wearing a dress, knowing that you have done some good and another dog will not go hungry.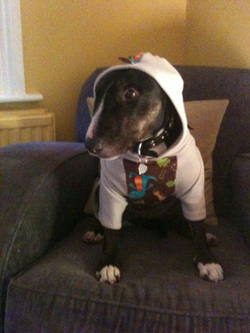 Hopefully this trend to accessorize you dog is a passing fad and will fade away as quickly as it arrived.


Return from dog accessories to home Page
Photos used under Creative Commons from harperlauren, istolethetv, Eco-Pup