About Me

About me: Let me introduce myself my name is Alan Marsden now retired and following my dream.
I consider myself a very lucky person having moved from the U.K to the warmer climate of Southern Spain where I live with my wife and my pets.
We arrived in Spain with just our pet dog Mizzy, since moving house recently, we have acquired two more dogs, four terrapins, a cat plus five kittens, I nearly forgot the wild geckos that have moved into the house we have several of them living behind the picture frames, the wife just loves it here.
I now have the time to follow my love of animals and share with others my knowledge and experience of animals.
Ever since I can recall I have had pets, well over 50 years, not every kind of pet, but my fair share of different animals which have given me great pleasure, in seeing them grow and flourish, and great sadness as they part from this world.
Having had the pleasure, the sadness and the trials and tribulations in between, sharing with others my experiences and my thoughts on the welfare of animals, believing that if you choose to bring an animal into your home, you make it their home for life.
Choosing the right animal to suit your lifestyle will mean you and your chosen pet will live happily together, making the wrong choice often leads to disappointment and a unhappy pet and owner.
I have a lifetime of pets adopting me, never turning one away, this was frustrating for my mother and has been frustrating for my wife for the last thirty eight years, but my love of animals will go on.
the picture below is of my pointer Mizzy (laying down in the park) who flew to Spain with us, the other dog also a pointer just turned up out of nowhere for the picture opportunity!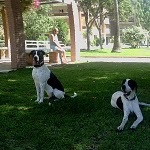 skip from about me to free pet advice